Dentist in Westmont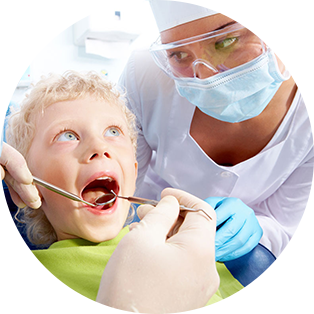 Preventive Dentistry
We provide excellent preventive care, including Exams, Cleanings and Digital x-rays. Early detection of dental problems is essential to gain optimal oral health. It is recommended for all patients to schedule a six-month dental check-up exam. We will also provide education on forming proper Dental Hygiene habits.
Children's Dentistry
According to the American Academy of Pediatric Dentistry, your child should visit the dentist within six months after the presence of the first tooth or by his or her first birthday. Early oral examination aids in the detection of the early stages of tooth decay and helps maintain great oral health. We offer Children's Dentistry, Fluoride Treatment, and Sealants to ensure your child has a healthy start to their oral care.
Cosmetic Dentistry
Dr. Kennedy offers aesthetic dental solutions to enhance the appearance of your smile and overall confidence. Cosmetic dentistry can also improve the overall function of your mouth and teeth. We offer Porcelain Dental Veneers, Teeth Whitening, Bonding, Dental Crowns, and Dental Bridges to help ensure you have beautiful, healthy smile.
Dental Implants
Dental implant restoration is a safe, long-term solution to replace one or more missing teeth. Dr. Kennedy provides high-quality dental implants that restore the strength, function, and beauty of your smile. Contact our office for a consultation to see if dental implants are right for you.
Restorative Dentistry
Restorative dentistry is used to restore the strength and beauty of your smile. If you've been suffering from pain caused by decay or other health conditions, you may benefit from restorative therapy. We offer conservative treatment solutions to preserve your natural teeth, as well as tooth replacement options. Some of our restorative options include Tooth-colored composite fillings, Dentures, and Dental Implants.
Periodontics
Periodontal disease is the leading cause of tooth loss. At our dental office, we will gently evaluate gums and overall oral health, and if necessary, will make recommendations for treatment. We provide periodontal care options, including scaling and root planing to ensure gum health.
Endodontics
Endodontic (root canal) therapy removes harmful bacteria from your tooth, healing infection, ending your pain and improving your health. When decay or a crack has reached the nerve of a tooth, a root canal is necessary.
Fastbraces®
Fastbraces®FASTBRACES© Technologies, a true American original now in almost 50 countries, is celebrating its quarter-of-a-century anniversary of providing products that help dentists and orthodontists straighten teeth. Teeth are crooked because they didn't erupt properly and came in tilted, sideways, overlapping or spaced apart and, as a result, they are not upright and straight. FASTBRACES© Technologies high performance bracket systems upright the roots of the teeth from the beginning of treatment with just one square wire by torqueing and tipping them from the very first appointment. Treatment time for non-surgical comprehensive orthodontic therapy should take more than 120 days with the FASTBRACES© CLASSIC™ SERIES™ and could take less than 120 days for non-deep bite cases with the FASTBRACES© TURBO™ SERIES™, depending on the patient cooperation and clinical experience of the treating doctor.
Oral Surgery
When necessary, we can often extract a tooth in office, saving you the time and cost involved in seeing a specialist. We focus on providing comfort during extractions and offer many options to replace the missing tooth, including Dentures and Dental Implant Restorations.
Sedation Dentistry
We help treat patients with dental phobias, anxieties and fear. Sedation Dentistry can help you relax during your treatment and have a positive dental experience. We offer Nitrous Oxide sedation as a safe and effective way to ensure a comfortable dental care experience that still allows you to drive home afterward.